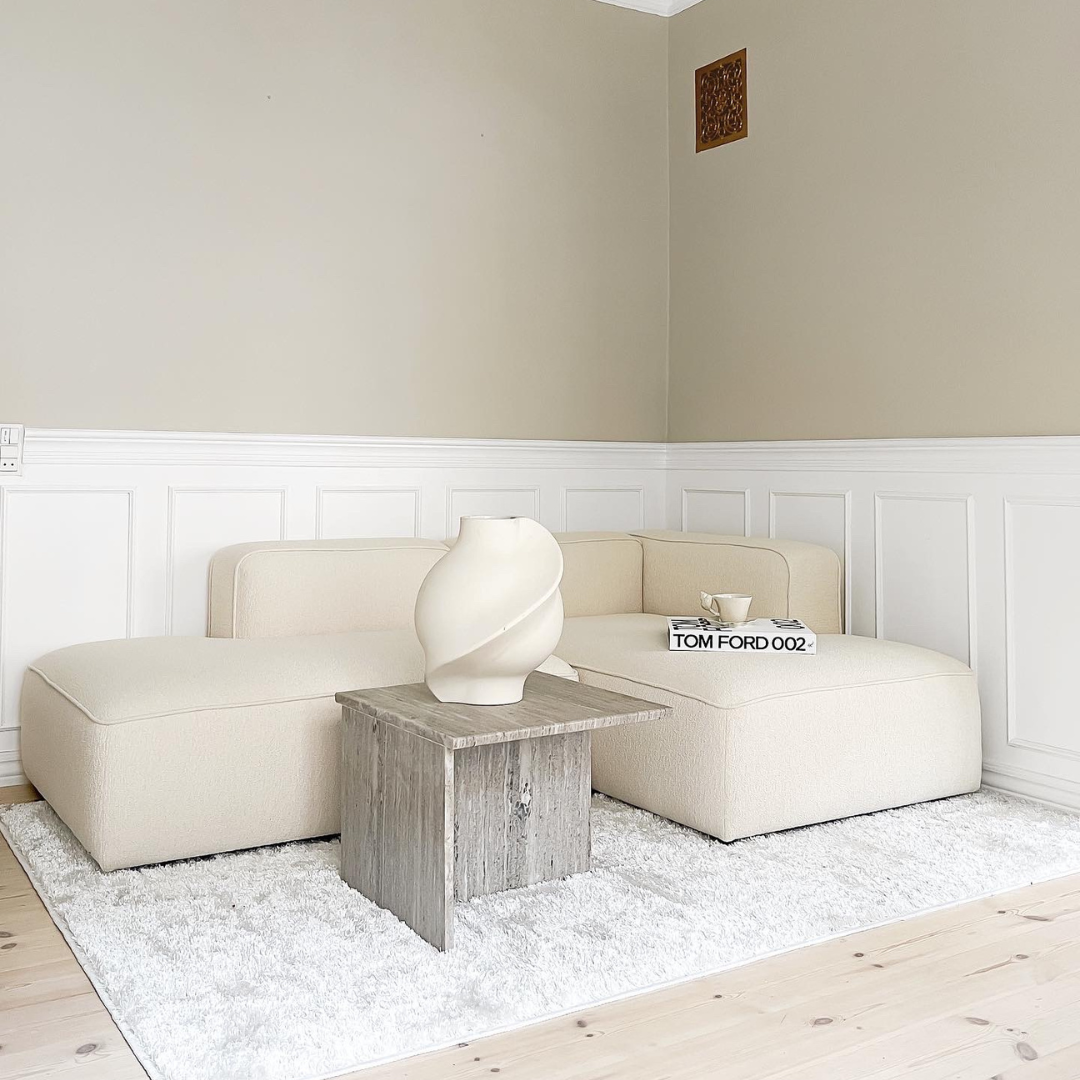 MAKE your own
Design din egen sofa
MAKE your own er din mulighed for at bygge lige den sofa du går og drømmer om. Modulerne findes både i en almindelig udgave og i en XL udgave. Bredden på modulerne er den samme uanset størrelse, så du kan nemt sammensætte alle moduler.
Start her
A sofa should be a place where you can put your legs up and relax. At the same time, it must be included as an inviting part of the decor. A beige sofa with chaise longue is a good bet!

On this page, we have collected a beige selection of the home's most important piece of furniture with a chaise longue. Beige is a warm, neutral and minimalist color, which is a timeless trend, which is why it is also a popular choice for many. Our chaise longue sofas in beige are available in a wide range of sizes, so you can find the right design, whether you live alone in a 2-bedroom or in a large house where the sofa has to accommodate the whole family.
Danish designed sofa with chaise longue
A sofa with at least one chaise longue takes your relaxation options on the sofa to a whole new level. Here you can put your feet up after a long day and feel how the calm subsides for an evening with a good TV program or some wonderful conversations.

A sofa from MAKE nordic is architect-designed and manufactured for you according to Danish standards in furniture production. That is why we only use the best materials – including textiles from the renowned Danish fabric supplier Kvadrat. The Basecamp sofas are handmade on an FSC®-certified wooden frame, which is upholstered with a thick layer of environmentally-certified cold foam.
Beige chaise longue – a stylish choice
Your beige chaise longue is not only perfect when you need to rest your legs. The chaise longue also contributes to extra seating when you have many guests visiting. At the same time, beige is a stylish color that varies depending on which material you choose. We have both bouclé, Re-wool, classic wool fabric in the form of Hallingdal, polyester and velvet - all in different shades of beige.

Have you also fallen in love with the minimalist and warm beige in combination with a beautiful chaise longue? Take a look on this page and find your next sofa.