NEWS CORD - a classic oak chair
With a deep respect for the Danish design traditions, Esben Pilgaard Jørgensen has created another iconic chair in the CORD series. This masterpiece is the result of the designer's eye for classic design, and the unique opportunity to combine functionality with the well-known paper braid. The fusion of the chair's oak frame and the classic paper braid gives the chair a timeless expression with a modern angle and a design that radiates character and elegance.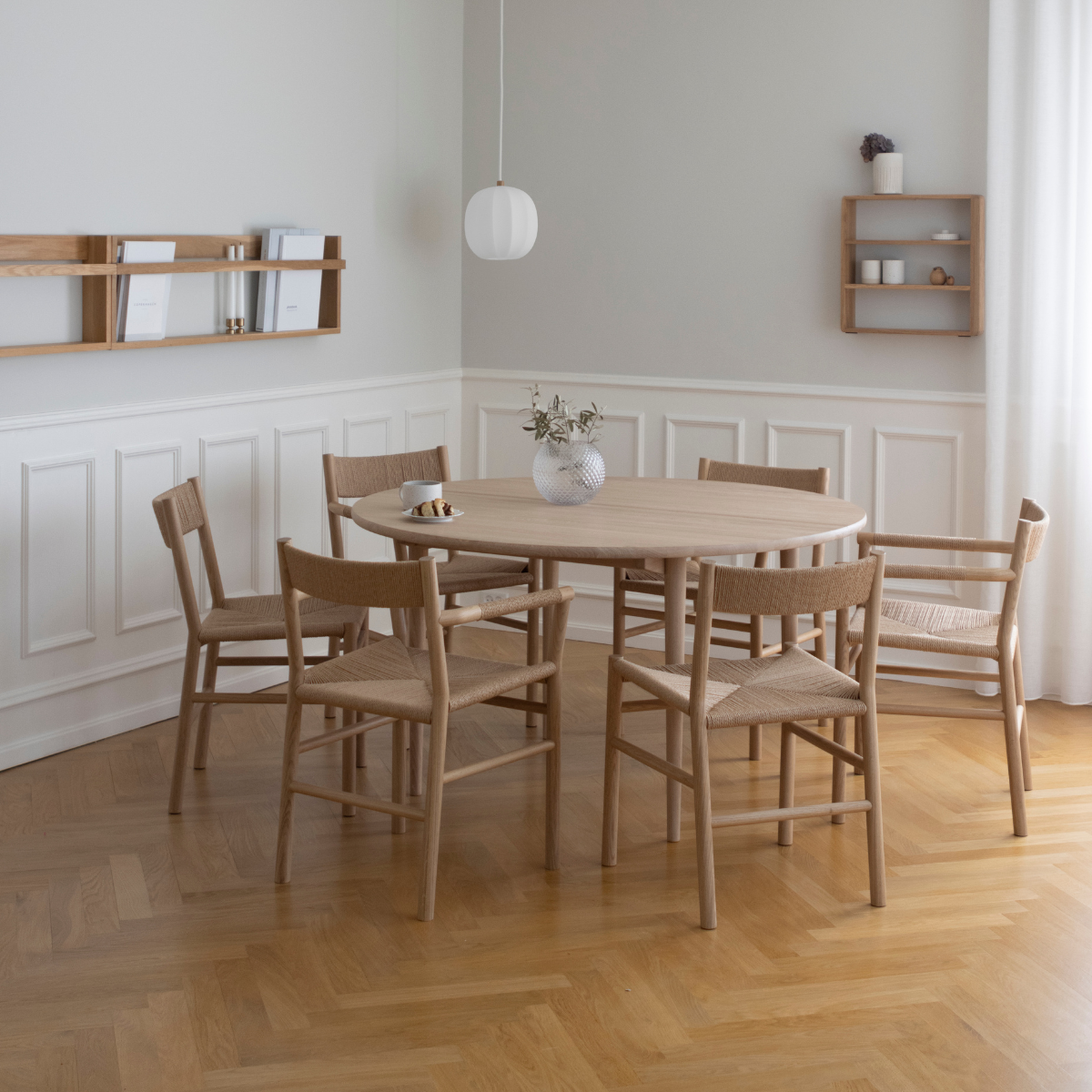 A timeless masterpiece
CORD is versatile and can be chosen both with and without armrests, which gives you a wealth of options in your interior design. It works perfectly as a dining table chair, but its versatility also makes it suitable for the office, entrance hall and bedroom. At the dining table, you can combine chairs with and without armrests to create a varied look. The light wicker and the natural oak fit into any context.

CORD delivers the ultimate seating comfort. The elegantly curved back supports in all the right places, and the hand-woven seat ensures that you sit comfortably for hours. If you choose the chair with armrests, you get a natural resting position and extra comfort while enjoying meals with friends and family.
Experience the cord series
A sustainable chair
CORD is created to live on for generations, which means that you get a timeless and durable chair that can accompany you for a lifetime if you take good care of it. The frame is made of oak from FSC®-certified (FSC® N002763) forests. The back, seat and armrest are also carefully hand-braided with FSC-certified paper braid. When the time comes to get rid of the chair, the wicker and oak can be easily separated, sorted and recycled, or you can even return them to MAKE nordic.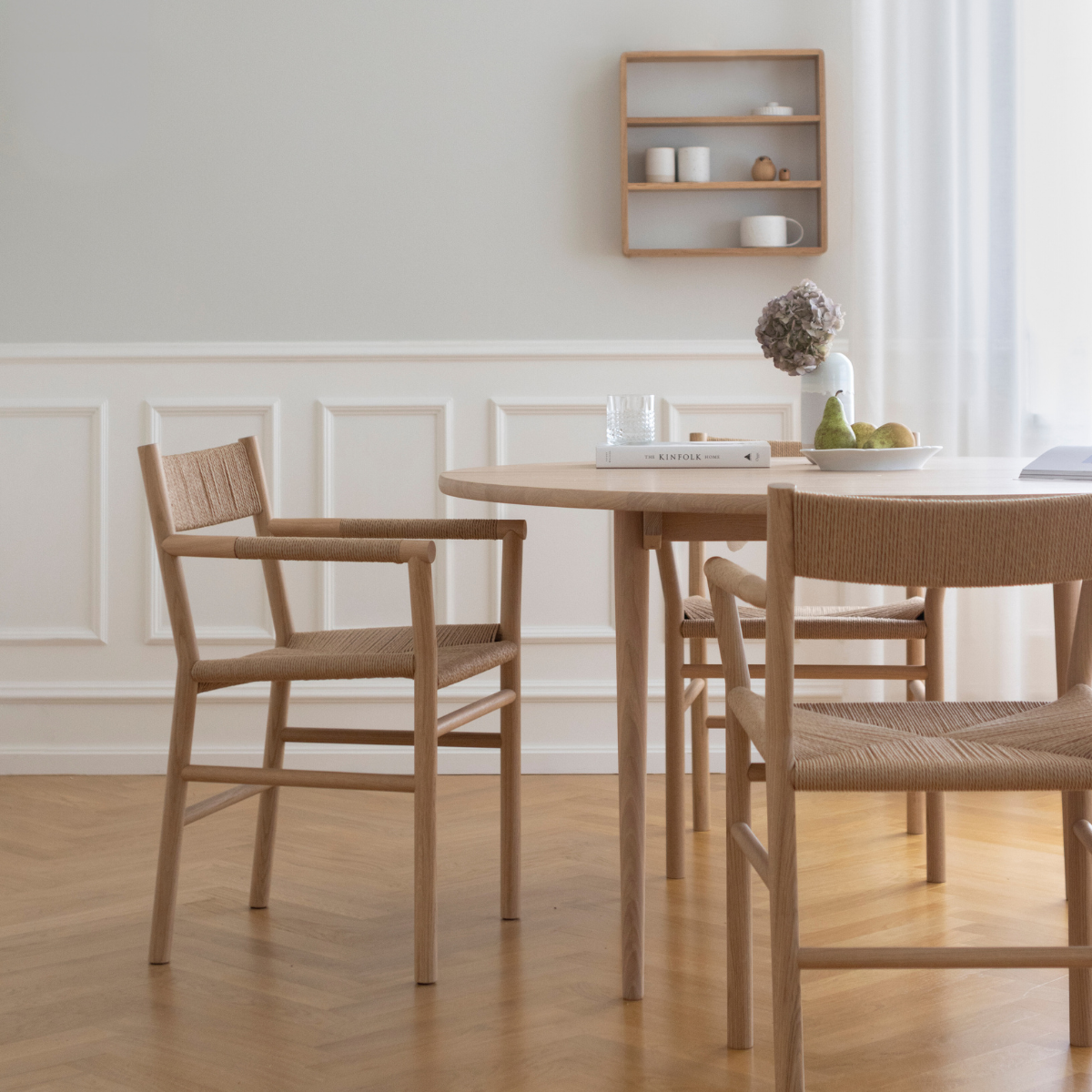 Maintenance
The oak frame does not require any special maintenance.

Paper wicker has been used on chairs for generations, and it is both beautiful, hard-wearing and durable. The natural material is patinated and aged in the most beautiful way.

If you spill on the seat, it can be wiped off with a hard-wrung cloth. But avoid washing it too much, as the surfaces are made of paper braid that does not benefit from excessive use of water and detergents.
- Read more about stain removal
Take back
- SELL US YOUR USED CORD FURNITURE
We buy back your used CORD chairs and benches regardless of condition. The materials are recycled and we give the furniture new life. In this way, you help to minimize waste and the consumption of resources.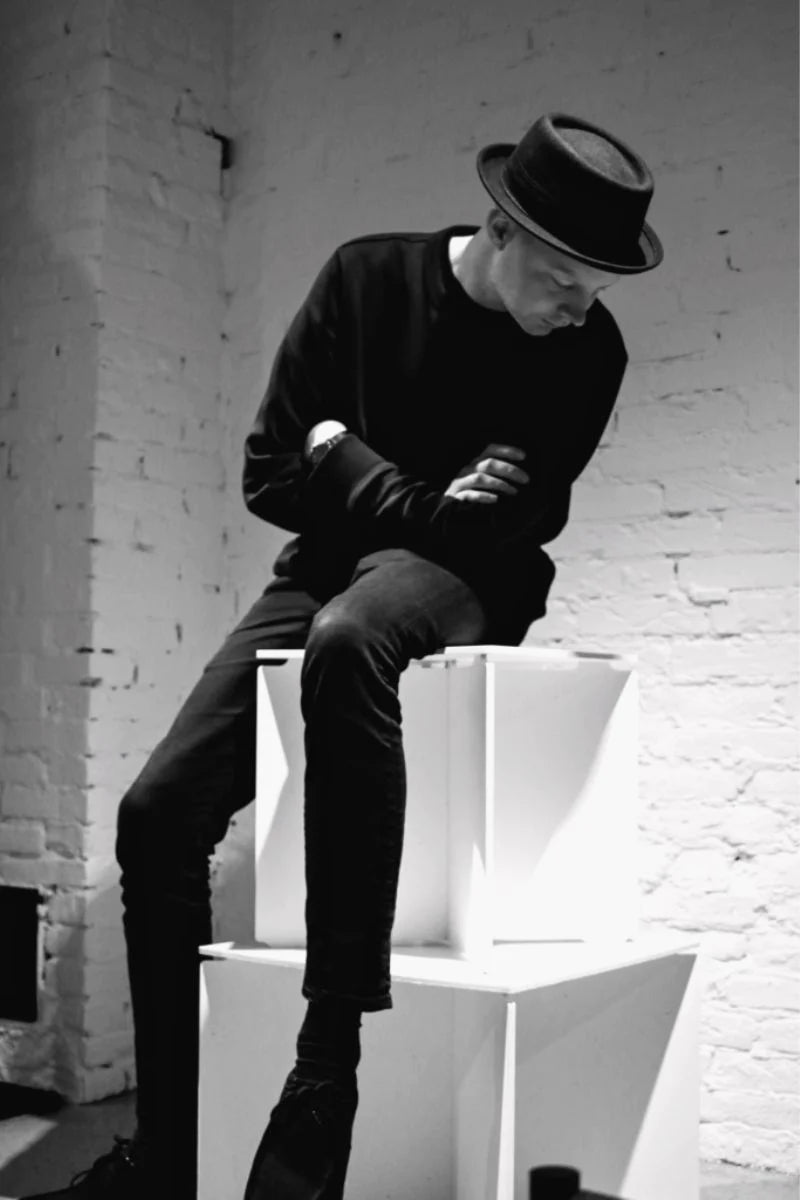 The designer - Esben Pilgaard Jørgensen
Esben got his interest in craftsmanship and production through his mother's milk, as he grew up in a family of blacksmiths in North Jutland, where he is the fifth generation.

As a child, he had his daily routine in the large blacksmith's workshop, where both father, uncle and grandfather worked. At a very early age, Esben gained an in-depth knowledge of the craft and especially metalworking. It was also early in his upbringing that a burgeoning urge to create arose.

The creative urge brought Esben to Aalborg University, where he studied industrial design. Subsequently, he founded the design studio Pilgaard Design Studio.

Today, he is behind a large number of designs within both furniture and lamps, where quality and craftsmanship play a decisive role. The result is characterized by long-lasting, minimalist and classic designs.
- Read more about Esben
Who is Esben Pilgaard Jørgensen? 

Esben Pilgaard Jørgensen is a Danish industrial designer. He is behind a number of furniture and lamp designs, which are based on high quality and good craftsmanship. Among other things, he has created the beautiful CORD series for MAKE nordic. Esben Pilgaard Jørgensen has the design studio Pilgaard Design Studio, where timeless, minimalist and classic designs are created. 

What furniture does the CORD series consist of? 

The CORD series consists of three pieces of furniture; a bench and two dining table chairs. One dining table chair has armrests, while the other is designed without armrests. The black steel frame is combined with the light paper braid in the series' three pieces of furniture, while only the chairs are available in a beautiful oak variant as well. The combination creates a beautiful contrast that fits perfectly in the Scandinavian decor.