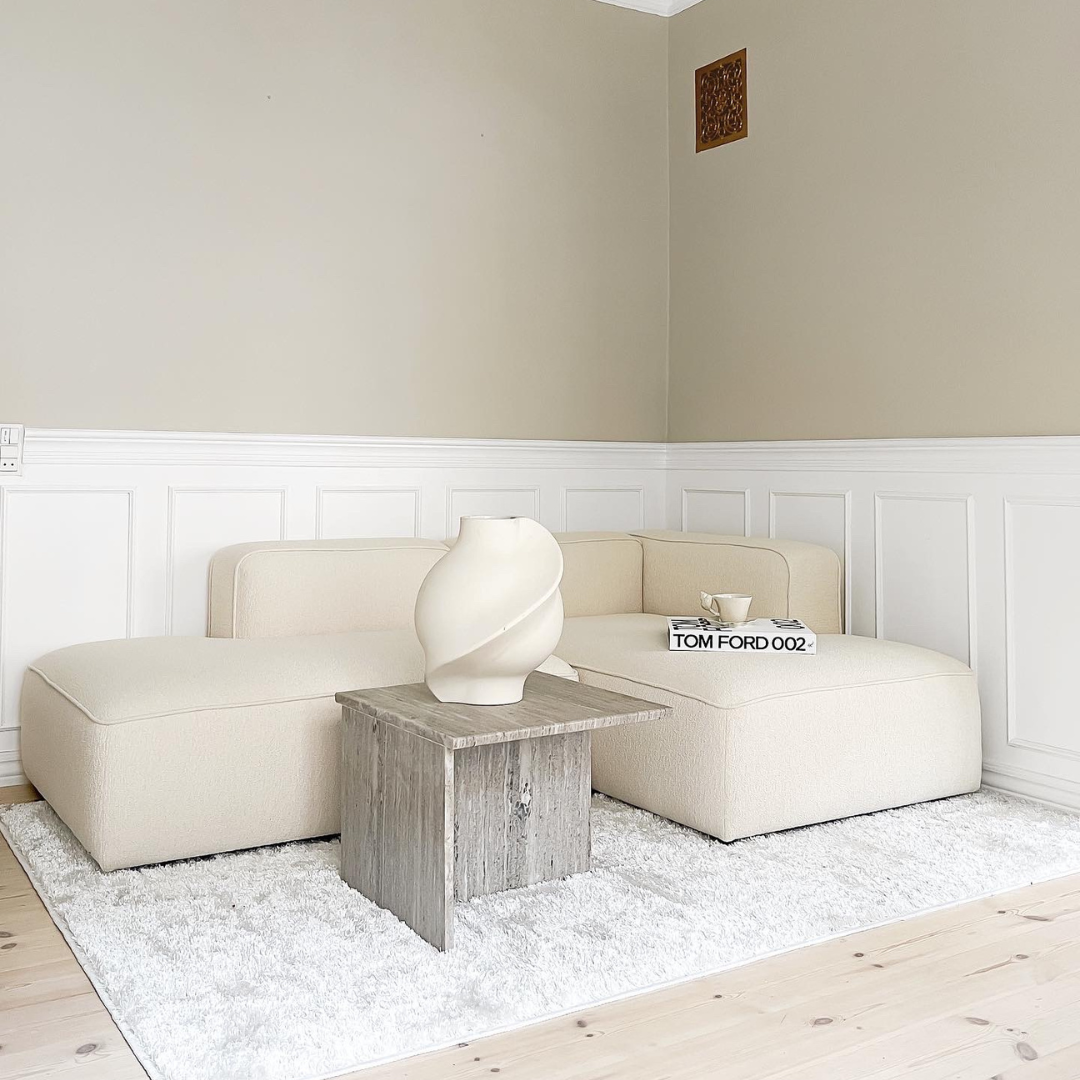 MAKE your own
Design din egen sofa
MAKE your own er din mulighed for at bygge lige den sofa du går og drømmer om. Modulerne findes både i en almindelig udgave og i en XL udgave. Bredden på modulerne er den samme uanset størrelse, så du kan nemt sammensætte alle moduler.
Start her
The sofa - the home's gathering place for pleasant moments
The sofa is one of the most important pieces of furniture in the home, because it is a gathering place for lovely and present moments with those you care about. The sofa must therefore combine a beautiful design, high comfort and inviting materials. You will find precisely those characteristics in our sofas from MAKE nordic.

We have several designer sofas just waiting to come to your home. Our architect-designed sofas are created with the classic, Scandinavian style in mind. So you get a sofa that is guaranteed to be a natural gathering place for countless pleasant moments with family and friends.  
BASECAMP - a stylish and classic sofa for every need
As the sofa is one of the larger pieces of furniture in the home, it also has great importance for the overall expression of your interior design.

In our range of classic sofas, you will find our BASECAMP modular sofas, which are the ultimate floating sofa. The minimalist BASECAMP modular sofas can be put together exactly according to your needs and wishes for functionality. Here, it is therefore possible to design the beautiful sofa yourself so that it fits your living room in both size and the large selection of textiles.

BASECAMP has a clean and Nordic look that fits into most homes. The versatile sofas can be easily combined with your other furniture in different materials due to the classic and minimalist look.
Timeless sofas that can accompany you for years
At MAKE nordic, we have a strong focus on limiting our environmental footprint. Therefore, our BASECAMP sofas are also produced according to sustainable principles in collaboration with Danish and European suppliers - without compromising on quality. It gives you a timeless sofa with a long life, so it can remain a classic part of your living room for many years to come.
Sustainable initiatives in BASECAMP
Frame made of wood from FSC®-certified forests
For BASECAMP, wood from FSC®-certified forests (FSC® N002763) is used for the strong frame. The responsible forestry also provides a very strong construction for the sofa.
Cold foam without toxins
Only non-toxic cold foam is used in the sofas, which protects you and the environment from potentially harmful chemicals.
Certified textiles
Our textiles are always certified with Oeko-tex and/or EU-Blomsten ®.
You can read much more about our sustainable initiatives or certifications here.
Find a sofa in classic Danish design at MAKE nordic
Are you looking for the right sofa for your living room? With a sofa from MAKE nordic, you get a classic sofa in Danish design that has been created with a reduction in environmental impact in mind. On this page, you can examine the selection of sofas that are guaranteed to become a secure base in your home. Common to all our sofas is the Nordic style, which makes them easy to combine and combine with your current furniture.

If you have any questions about our sofas or other products, don't hesitate to contact us. We would really like to help you answer your questions.