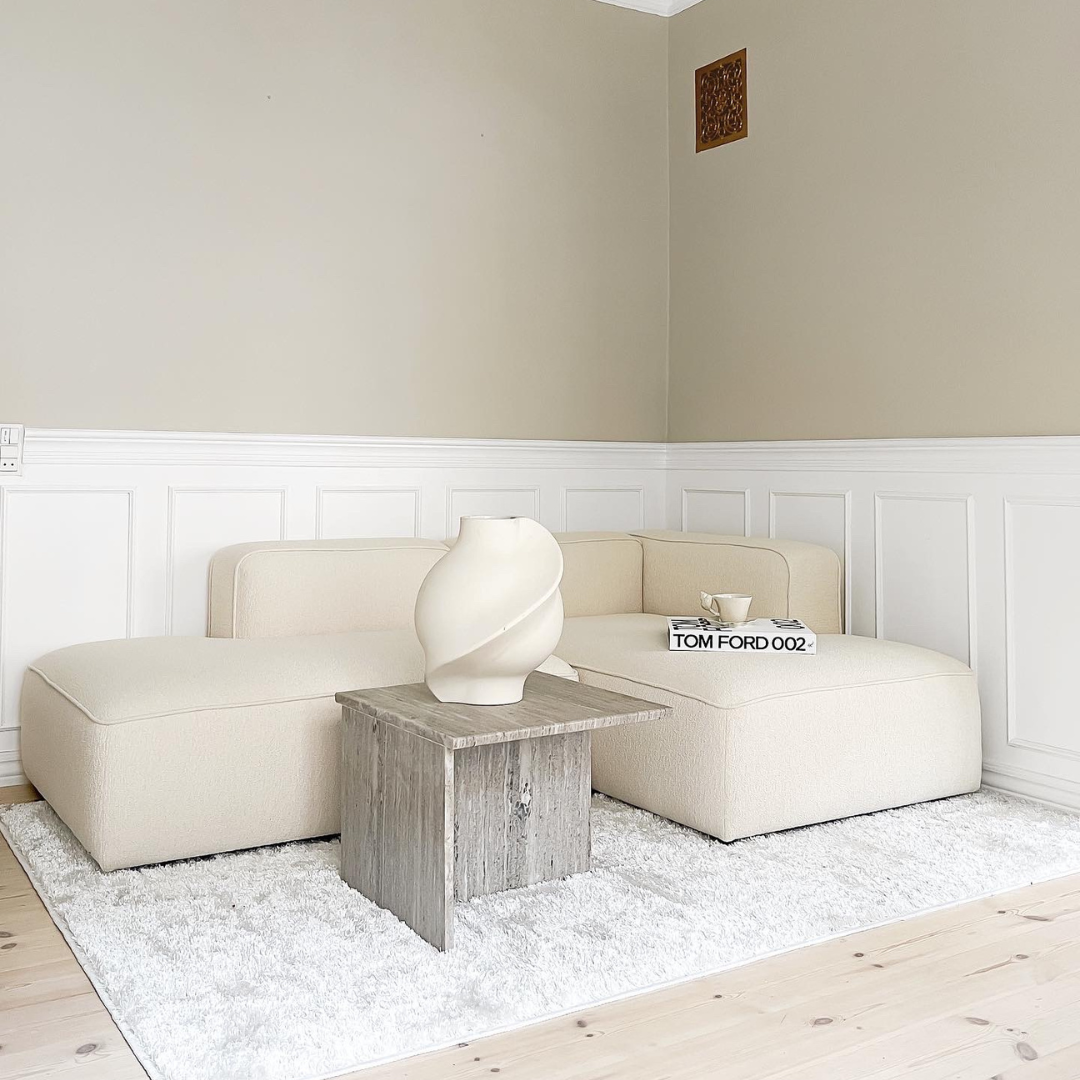 MAKE your own
Design din egen sofa
MAKE your own er din mulighed for at bygge lige den sofa du går og drømmer om. Modulerne findes både i en almindelig udgave og i en XL udgave. Bredden på modulerne er den samme uanset størrelse, så du kan nemt sammensætte alle moduler.
Start her
A pouf for the living room is not only practical, but also a stylish addition to any home. A pouf for the sofa can, among other things, function as an extra seat or a comfortable footstool. Our selection of poufs for the living room is designed with a focus on both functionality and aesthetics and is made from the best materials to ensure high durability and quality. If you are looking for a modern, minimalist pouf for the living room, you will find the right design for you and your home here at MAKE nordic.
Add the final detail to the living room with a sofa-pouf
At MAKE nordic you will find pouffes that fit our BASECAMP series, and they are therefore the perfect addition to your modular BASECAMP sofa. Our puffs are available in several variants, including different sizes and colors. They are multifunctional and designed in a durable construction that is made to be used, and therefore there are also more possibilities of use. They function both as a place to rest your feet while you relax on your sofa, as an extra seat for guests and even as a coffee table, which can easily be decorated with magazines or a tray with afternoon coffee.
Timeless poufs created with consideration for the environment
Puffs from the BASECAMP series are created according to sustainable principles to limit our footprint.

The BASECAMP buffers are made of:
Frame made of wood from FSC®-certified forests.

Cold foam without toxins to protect both you and the environment from potentially harmful chemicals.

Textiles from Gabriel and Kvadrat, which are always Oeko-tex certified and/or certified with EU-Blomsten®.
Read more about our certifications
A Nordic designer pouf for your taste
When we select fabric and leather for our sofas and poufs, we focus heavily on choosing textiles that are produced with consideration for the environment, have delicate colors and are of high quality. Hard-wearing textiles ensure you a pouf that is designed to be used rather than solely to decorate the living room.

You can find a designer pouf from MAKE nordic in a wide selection of colors and materials - from wool, woven fabric, velvet, bouclé, leather and much more. In this way, you can adapt your pouf to your living room so that it fits perfectly into your interior style.

Are you in doubt about which color pouf fits into your living room? At MAKE nordic you can order up to 4 free fabric samples so you can test the colors in your own home. Order color samples.

MAKE nordic | Architect-designed furniture in Scandinavian design
At MAKE nordic you will find furniture designed according to the Scandinavian design traditions. If you like a minimalist interior design style, then our BASECAMP pouf is the right choice for your home. You can be sure that many hours will be spent in the living room with a nice pouf as an extension of the sofa.

Do you have questions about our puffs or other products? Do not hesitate to contact us on tel. +45 29 10 38 00 or by mail to info@makenordic.com.