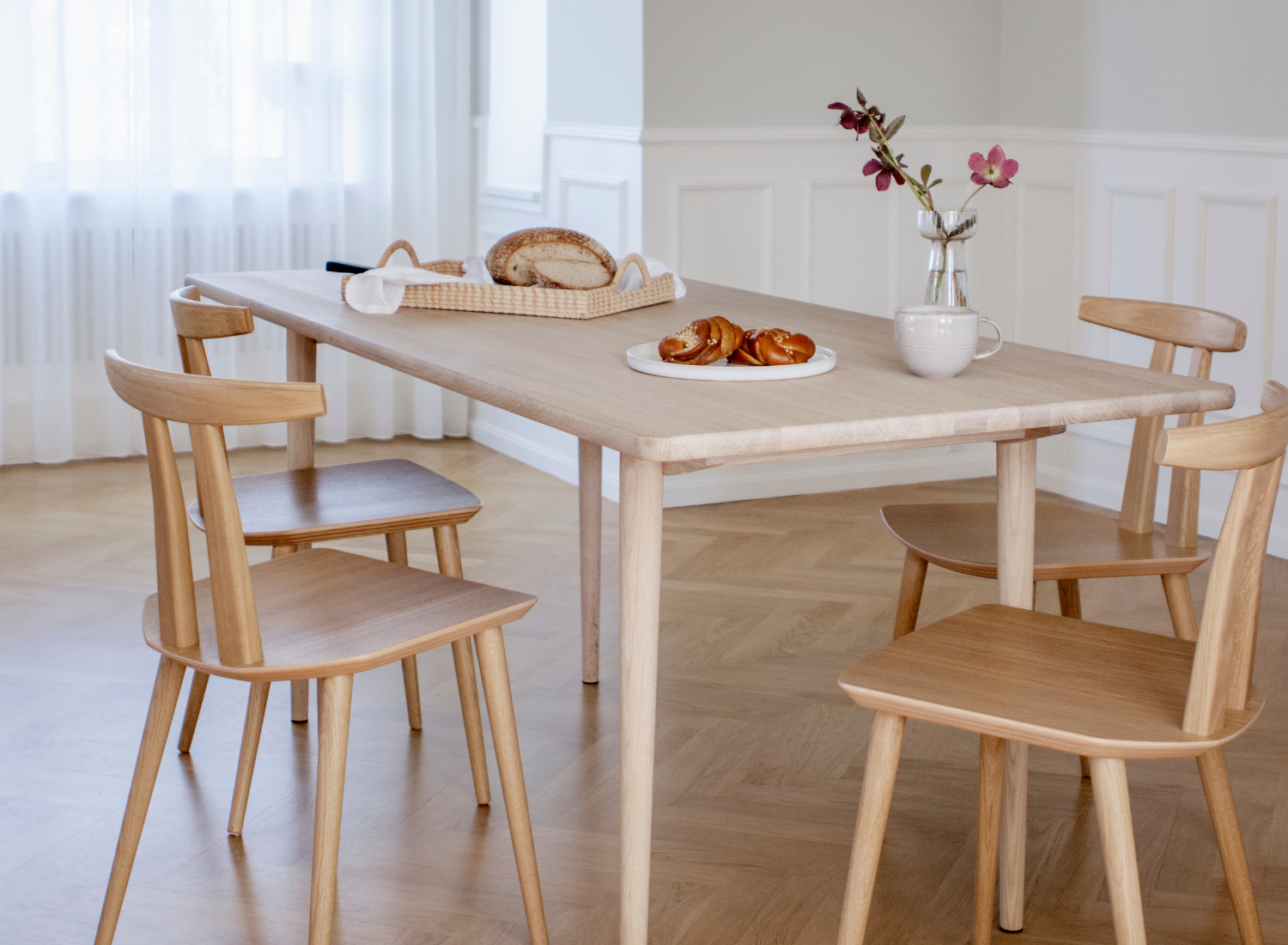 J111 dining table chair
AN AWARD WINNING CHAIR
The J111 chair was born in 1971 by Poul M. Volther. This chair is very close to the designer, as he won a furniture award for the beautiful design. J111 is as comfortable as it is aesthetically pleasing, and is thus another good example of Poul M. Volther's indescribable talent as a furniture designer. This chair is for you who love craftsmanship and would like to combine timeless design with optimal sitting comfort.
With its minimalist design, the J111 chair can be used throughout your home. It can be used around the dining table, in the entrance hall, in the bedroom, in the summer house or as extra chairs that can be quickly taken out when you have many guests. The J111 chair has a curved back and a wide seat that contributes to the high sitting comfort, and slightly tapered legs that create extra stability. These can be unscrewed so that the chair takes up as little space as possible. This relaunched version of the J111 is made here at MAKE nordic in solid oak from FSC® certified forests (FSC® N002763) with a matt or black lacquer.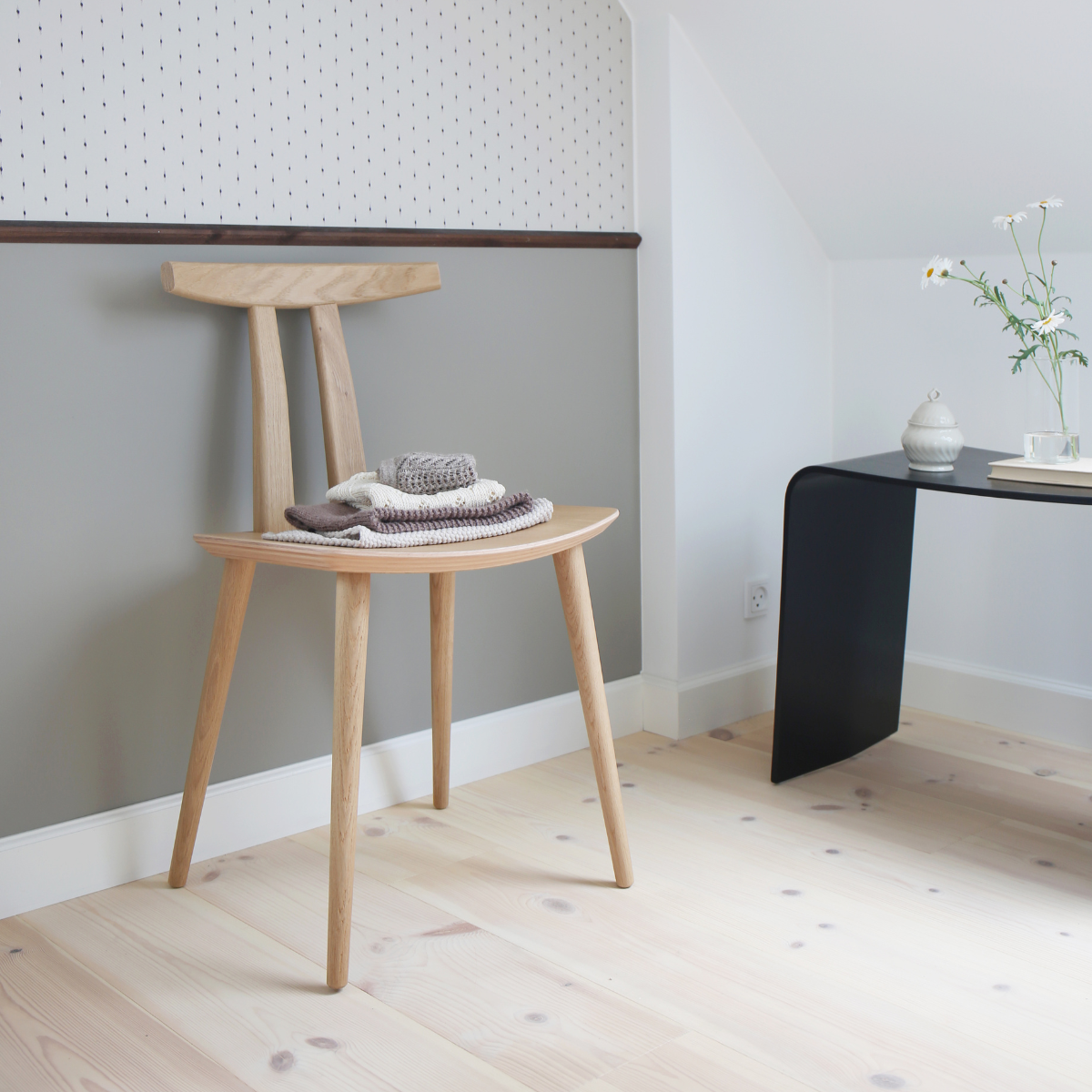 Materials
The J111 chair is prepared by hand by skilled cabinetmakers and then assembled and polished to give the chair a soft and beautiful end result. The seat is constructed from 30 mm. oak veneer, which makes it strong and stable. The chair's legs and back are made of solid oak, and the back has contour-cut and bent pieces of wood that give J111 its light and characteristic look.
The J111 chair is handmade in oak from FSC®-certified forests (FSC® N002763), and is treated with a natural or black water varnish. This is used to maintain a good indoor climate and avoid unnecessary strain on the environment. With this varnish, the chair can stay beautiful for many years, without the need for additional care. Spilled liquid can soak in and damage the surface of the chair, so avoid leaving it lying around. J111 can be easily wiped off with a dry or hard-wrung cloth, without the need for other treatment.
When your J111 chair gets old and scratched, it can be sanded down and treated again.
SEEJ111 CHAIR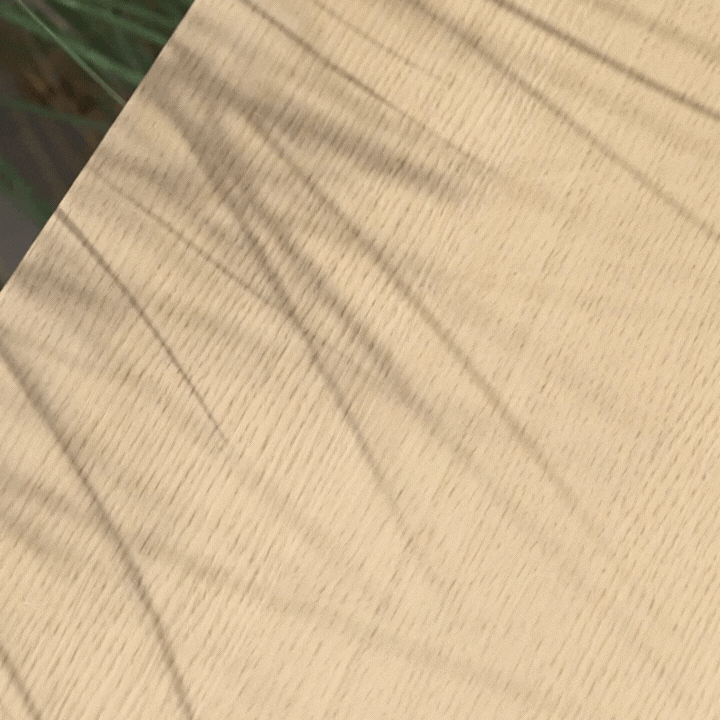 A sustainable chair
The J111 chair is handmade by Danish suppliers at a recognized furniture factory in West Jutland. The chair is produced in oak, which is from FSC®-certified forests (FSC® N002763), which means that during the production of this chair, consideration is given to nature, people involved in the process and animal and plant life.
The J111 chair is wrapped in FSC cardboard upon delivery and the legs are easily screwed on before the chair is to be used. This avoids wasted space and unnecessary air in the packaging. In addition, the chair is always transported with several pieces of furniture, so that the transport vehicles do not have to drive back and forth several times. This thus contributes to a more environmentally friendly transport.
- Read more about FSC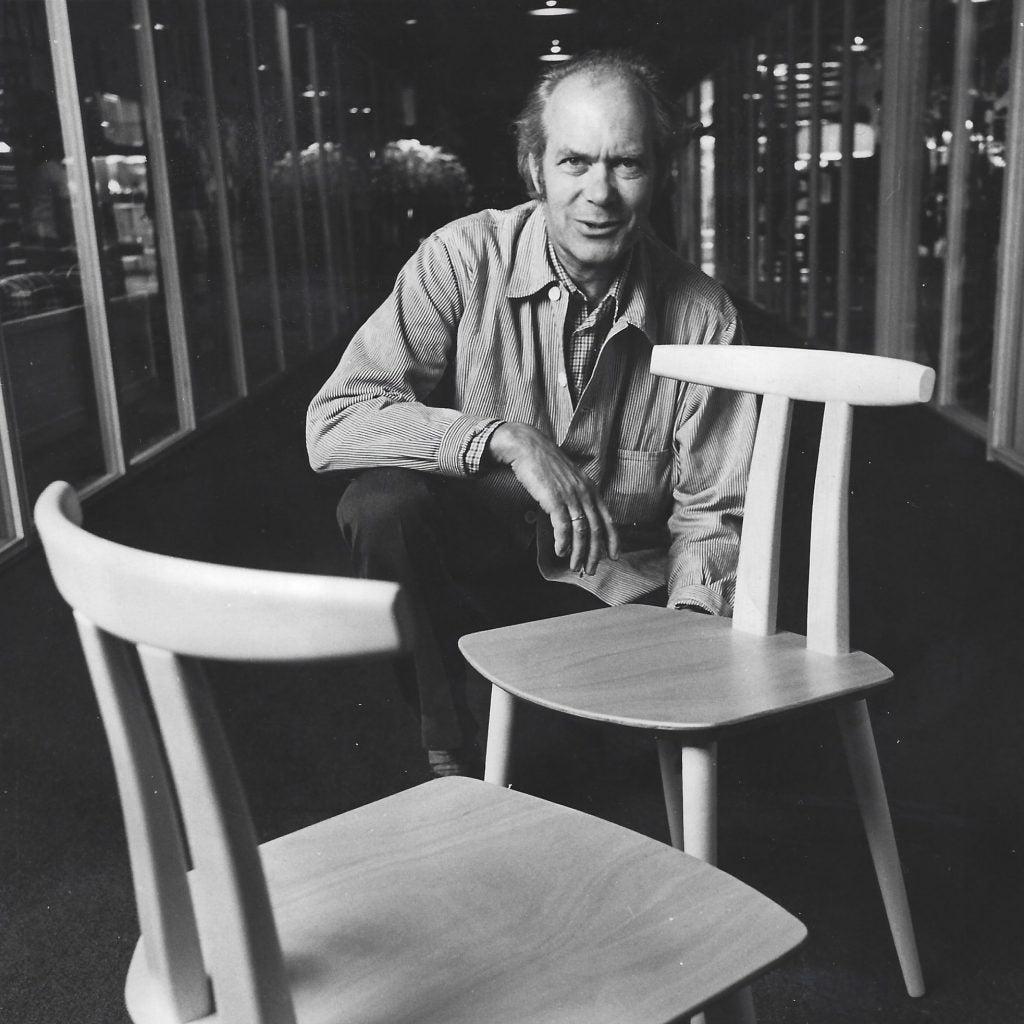 The designer - Poul M. Volther
Poul M. Volther, born in 1923 and died in 2001, is one of Denmark's best architects who have deep roots in good craftsmanship. His style was based on Scandinavian functionalism, which with a modern twist found a middle ground between the Bauhaus style and the classic, practical work. He thus avoided getting stuck in various short-lived trends, and instead designed works that capture people's attention across time. Poul M. Volther's style was simple, functional and beautiful. Which has resulted in a large number of his design classics finding their way into many thousands of Danish homes, where they are still seen today.
- Read more about Poul M. Volther