HOLMEN dining table
YOUR CLASSIC DINING TABLE
Do you want a dining table with a timeless design that is handmade in Denmark from quality materials? Then the HOLMEN dining tables are just the thing for you. The dining table has continuous, solid oak staves with beautiful markings of the wood's grain. The HOLMEN dining tables are handmade in Denmark from solid oak, which originates from FSC®-certified forests (FSC® N002763). The design is simple and timeless, and the dining table fits most chairs. Perfect for your Nordic home, where quality and design play a decisive role.
The elegant HOLMEN dining table fits into most rooms. The series of HOLMEN dining tables comes in several sizes. If you want a different size than the ones shown, you are very welcome to contact us, as we also make the HOLMEN table with special dimensions to order.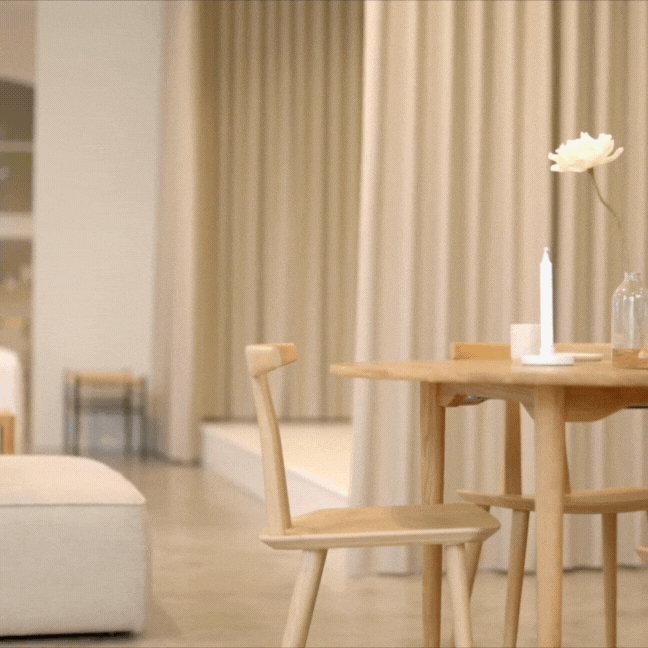 What size?
4 important choices
4 important things to consider when choosing a new dining table:
THE SIZE OF THE TABLE FRAME
How much space do you need between the table legs?
THE SIZE OF THE TABLE TOP
How much space do you need around the table - and what do you have room for at home?
TREATMENT
Should the table be oiled with clear or white oil.
ADDITIONAL PLATES
How many additional plates do you need when the whole family gets together?
You can choose between 4 different frame sizes; small round table, large round table, small rectangular table and large rectangular table. Whether you should choose a small rectangular table or a large rectangular table depends on what size you want the frame under the table to be. At the small frame there is room for 2 chairs on the long side, while at the large frame there is room for 3. Once you have chosen which of the 4 sizes of frame you want, you can choose from a multitude of sizes for the table top. It is therefore possible to find a table that fits your home and your needs. You then choose between a clear or a white oil. You can always change this choice at a later time, regardless of whether you change your mind in 2 months, 2 years or 10 years. You can always sand the table down and give it a new treatment with just the color you want. Finally, you must decide how many additional plates you need. In everyday life you will usually not need any, but for Christmas, birthdays or other festive occasions when the whole family gathers, the matter will be different. We always recommend buying 2 additional plates, as our experience is that the customers who choose this solution are the happiest with their choice. Most people who choose 0 or 1 additional plate return again at a later time because they have regretted it. If you want a different size than the ones you can see on the website, don't hesitate to contact us. Everything can be done (almost), and we are more than happy to help you find the perfect table for your home.
Sustainability
When you choose a HOLMEN dining table, you support furniture made from sustainable materials. The wood our HOLMEN dining tables are handmade from comes from FSC®-certified forests (FSC® N002763). This means that no more wood is felled than the forests can reproduce, and that animal and plant life are protected, and those who work in the forest are trained and receive proper safety equipment and wages.
- Read about the FSC certification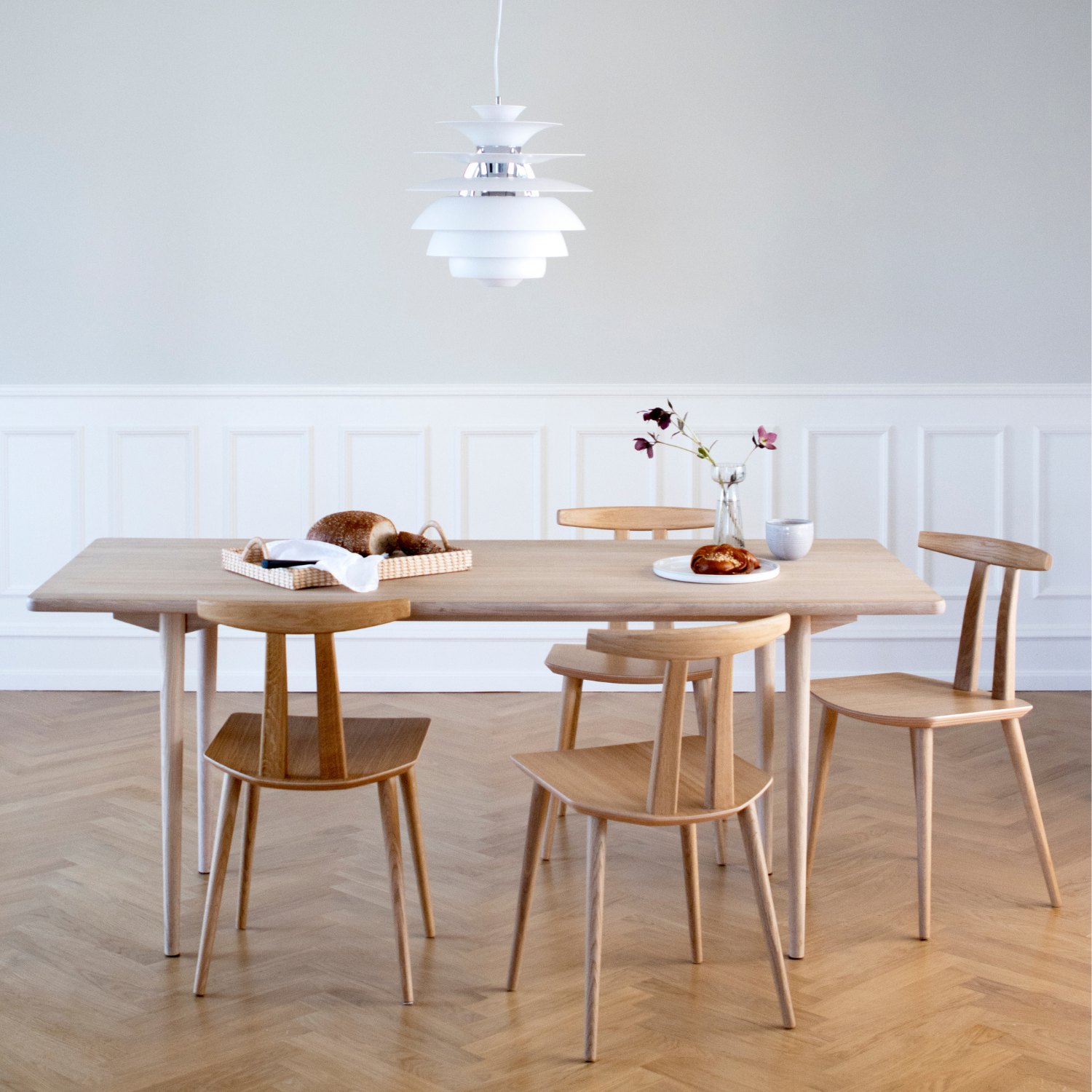 Oil and additional plates
You can choose the HOLMEN oak dining table with either white or clear oil. We are happy to make special orders, so if you have other wishes for the surface treatment, you are more than welcome to contact us.
In addition, you always have the option of purchasing additional plates when you buy a HOLMEN dining table. The additional plates make the dining table 45 cm longer for the rectangular table and 50 cm for the round table, so there is room for extra guests.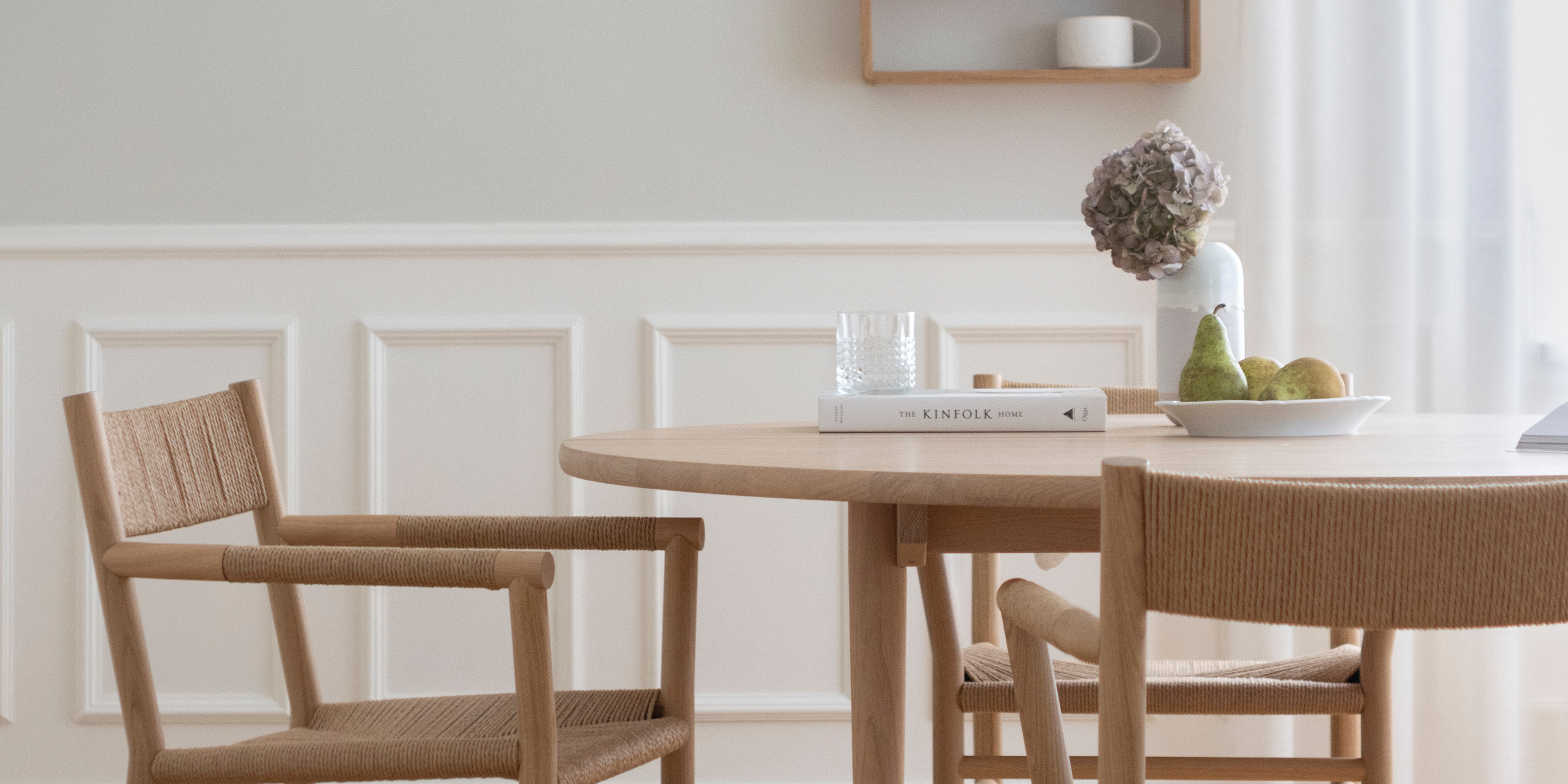 How to take care of your table
The solid oak dining tables are oil-treated. They come standard in a light oil or a clear oil to suit most homes. We recommend that you oil your new dining table during the first month after you receive it. The frequency of the oil treatment during the year depends on the use of the table. If it is used a lot, it must be treated more often. If a very smooth and water-repellent surface is desired, the dining table must be treated with oil several times during the first month. If a more natural surface is desired, the table should not be treated more than a few times a year.